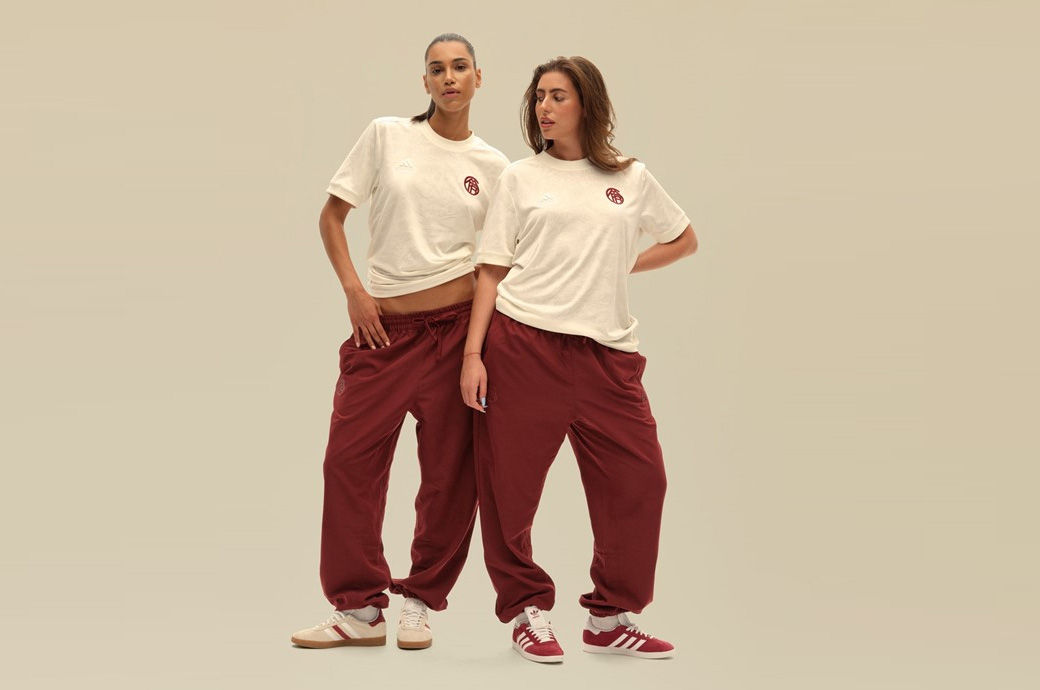 Adidas has launched its new LFSTLR jersey collection, featuring the season 23/24 third jerseys of some of its leading clubs, re-imagined as fashion-focused, lifestyle streetwear.
Dubbed the 'most wearable football jersey,' LFSTLR blurs the lines between football performance and streetwear culture, re-defining what it means to represent your club away from the terraces. The collection is designed for all fashion-conscious fans who live and breathe football as much as they value their own individual style, Adidas said in a press release.
Adidas has launched a new LFSTLR jersey collection, featuring fashion-focused adaptations of the season 23/24 third jerseys of top football clubs like Arsenal, FC Bayern Munich, Juventus, Manchester United, and Real Madrid.
The collection aims to blend football performance with streetwear culture, catering to fashion-conscious fans who value style and comfort.
The collection includes adaptations of the third jerseys of Arsenal, FC Bayern Munich, Juventus, Manchester United and Real Madrid, retaining the overall design blueprint of the authentic on-pitch and fan versions but with a focus on wearability and comfort over pure performance for the field of play.
"The lines between football and fashion have never been more blurred, which is why we're excited to launch this new collection for fans who want to show off their club pride in style and comfort. Each of the clubs featured in the LFSTLR collection are globally recognised institutions whose appeal stretches beyond a purely football context.  That's why we wanted to challenge and redefine the traditional concept of a replica jersey and tap into current streetwear trends – making them a welcome addition to the wardrobe of any fashion-conscious supporter," Sam Handy, vice president product and design, Adidas Football, said.
Each jersey is made with an elevated base material, including heavier superior fabrics for additional comfort as well as featuring a more premium trim execution and detailing to truly ramp up the style factor. The application of a tonal Adidas badge gives each jersey a clean, crisp look that gives the club crests additional prominence. Between 70-100 per cent of the materials used in each jersey are from recycled or renewable sources.
Adidas worked with each club to appoint a Creative Lead, tapping into the worlds of fashion and music, and ensuring the unique flair of each team came through with bespoke individuality.
Arsenal's classic-inspired third jersey, restyled for beyond the touchline with an elevated look and feel. Heavy double knit fabric, sweat-wicking AEROREADY and flat-knit details turn this pitch-perfect top into a super-comfy option for football fashionistas and fans alike. While the '80s-inspired design remains, that embroidered cannon badge takes on greater prominence, for a more street-ready look.
Using the club's eye-catching third kit as inspiration, this FC Bayern LFSTLR Third Jersey from Adidas makes the switch from elite football performance to supreme wearability. Its premium detailing, such as a ribbed crew neck, and a Bavarian Mountain flowers graphic pattern engineered in the jacquard fabric elevate the look and feel of this premium jersey for comfortable, classy everyday wear. Completed with tonal badges, it creates a clean, crisp look that's bound to be appreciated well beyond the club's passionate fan base.
Taking Manchester United's beautiful game off the pitch, Manchester United LFSTLR Third Jersey replaces performance features with premium engineered fabric that's soft to the touch and comfortable flat-knit details. The tonal Adidas badge of sport ensures that the all-important red devil crest takes even more of the spotlight.
Juventus LFSTLR Third Jersey makes the switch from elite performance to supreme wearability with the help of heavyweight terry loop fabric and fine detailing combined with the tonal badges
Taking the Real Madrid style beyond the touchline, Real Madrid LFSTLR Third Jersey reflects the club's sparkling play with a subtle diamonds-and-pearls pattern repeating across its dark base. In complete contrast, the club's famous badge on the chest and an "RMCF" sign off on the collar both bring the passion for Real Madrid to life on the streets.
Fibre2Fashion News Desk (RR)