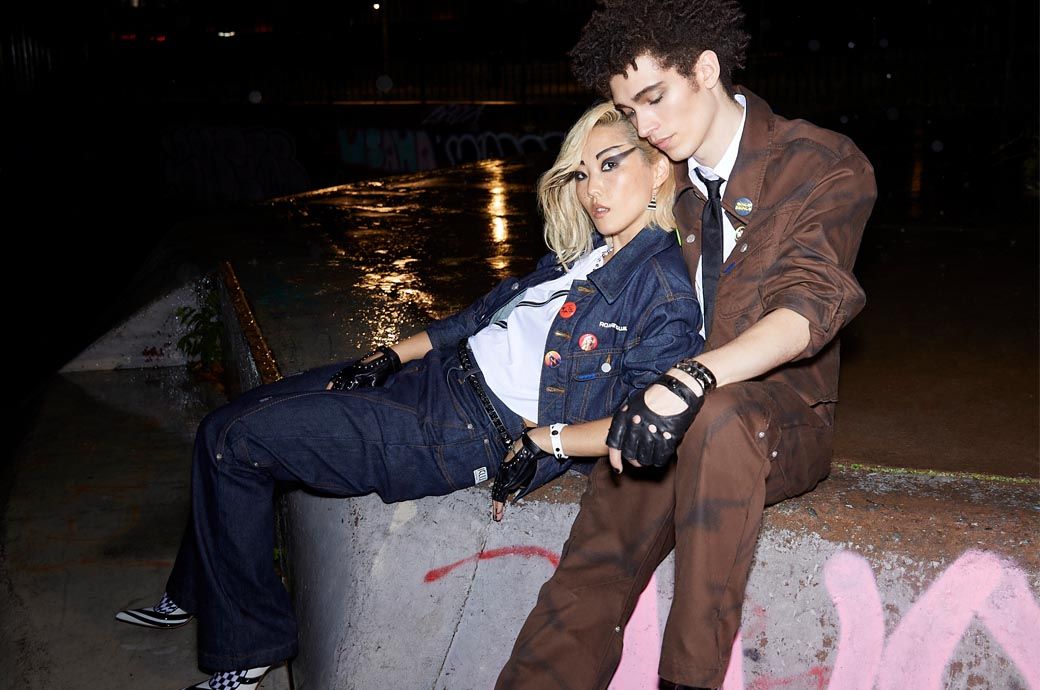 US brand Lee has announced its first unisex apparel collaboration with Roaringwild, the China-based brand known for their unique take on streetwear.
The two brands joined forces to create a global unisex capsule that showcases the link of music and culture through streetwear. As the first denim brand to collaborate with Roaringwild, this collection merges Lee's legendary denim shapes with Roaringwild 's energy, to present boundary-pushing designs that nod to Lee's history, while featuring youthful, unique designs.
US brand Lee has partnered with China-based streetwear brand Roaringwild for its first global unisex apparel collaboration.
The collection merges Lee's iconic denim styles with Roaringwild's streetwear energy, creating boundary-pushing designs inspired by music and culture.
It includes oversized rider jackets, wide-leg jeans, sweatshirts, and tees.
"This collection is a big step for Lee as it is our first fully unisex collection and one that's available globally," said Brigid Stevens, global vice president of marketing, Lee. "Lee has been in Asian markets for nearly 30 years and is the leader in denim in China. Roaringwild is one of the biggest streetwear brands there; we're proud to be their first denim collaboration and showcase this unique vision to our consumers around the globe."
Top styles include oversized rider jacket, cropped rider jacket, wide leg jean, oversized sweatshirt and tees, baggy cargo jean and baggy jean. Crafted for all genders, the Lee x Roaringwild oversized Rider jacket is a testament to decades of fearless style. The smokey laser-wash celebrates pioneers of the '80s underground scene, the company said in a press release.
Featuring a re-imagined take on the classic fit, the cropped rider jacket features a cropped, boxy fit inspired by the London '80s club scene. Wide leg jeans are designed with an international eye, a unique side-leg zipper, and a loose fit. Paying homage to the innovation of Avant Garde artists of the '80s, oversized sweatshirt and tees feature graphic treatments in comfortable loose fits,
Combining Lee's classic workwear construction with Roaringwild's aesthetic, baggy cargo jeans showcase contrast stitching, large pockets, and an oversized fit. Baggy jeans feature laser-washed denim and unique one-of-a-kind stitching.
"The inspiration of this collection comes from electronic music and youth culture, especially the part of electronic music. We summarise four key words of it as Synthpop, New Wave, Post Punk and House," said Roaringwild creative director, Meng Bing An. "The graphic design was inspired by art of the '80s, particularly the pattern of sound waves. We also mixed our tailoring with the classic Lee silhouette. Altogether the collection represents a rebellious spirit."
Fibre2Fashion News Desk (RR)