There has been a shift in the balance of power in the Big Ten over the last couple of seasons, and the neighborhood bullies now wear maize and blue.
Sure, the Ohio State Buckeyes are still a force to be reckoned with — after all, they nearly bumped off Georgia in the College Football Playoff semifinal last season.
But when it comes to conference play itself, Jim Harbaugh's Michigan Wolverines have reigned supreme, beating  Ryan Day's Buckeyes twice, winning the Big Ten championship twice, and going to the CFP twice. They're 17-1 in Big Ten games during this run, with the only loss being a 37-33 defeat to rival Michigan State in 2021. That's what we call dominance.
But how good can Michigan be in 2023? Can the Wolverines be even better? Can they get over the CFP hump and finally reach the championship game, and even win it?
FOX Sports college football experts RJ Young, Michael Cohen and Bryan Fischer are here to weigh in on all of these questions.
News broke on Tuesday that Michigan coach Jim Harbaugh would likely be suspended for the first four games of the upcoming season as part of a negotiated punishment with the NCAA for making false statements to investigators. What impact, if any, will this have on Harbaugh and his team for the 2023 campaign?
Michael Cohen: It will have zero impact on how Michigan's season ultimately unfolds. A year ago, the Wolverines faced arguably the weakest non-conference schedule in the country when Colorado State, Hawaii and UConn — all teams with first-year head coaches — were clobbered in Ann Arbor by a combined 149 points. The degree of difficulty improves marginally in 2023 when East Carolina, UNLV and Bowling Green visit Michigan Stadium to (almost certainly) get clobbered. The Wolverines can, and should, win those games in their sleep. 
An argument can be made, however, that this will influence Michigan's long-term future because of the opportunity afforded to whichever member of the staff Harbaugh selects as acting head coach while he's gone. That person, be it defensive coordinator Jesse Minter, running backs coach Mike Hart, co-defensive coordinator Steve Clinkscale or offensive coordinator Sherrone Moore, who is reportedly facing a one-game suspension of his own, will have the chance to audition for athletic directors and NFL personnel who might be keen to hire them later this year or in early 2024. None of the aforementioned assistants have been collegiate head coaches, and decision makers at either level would welcome the additional context that a temporary head-coaching stint can provide.
What Michigan fans can expect from Jim Harbaugh in 2023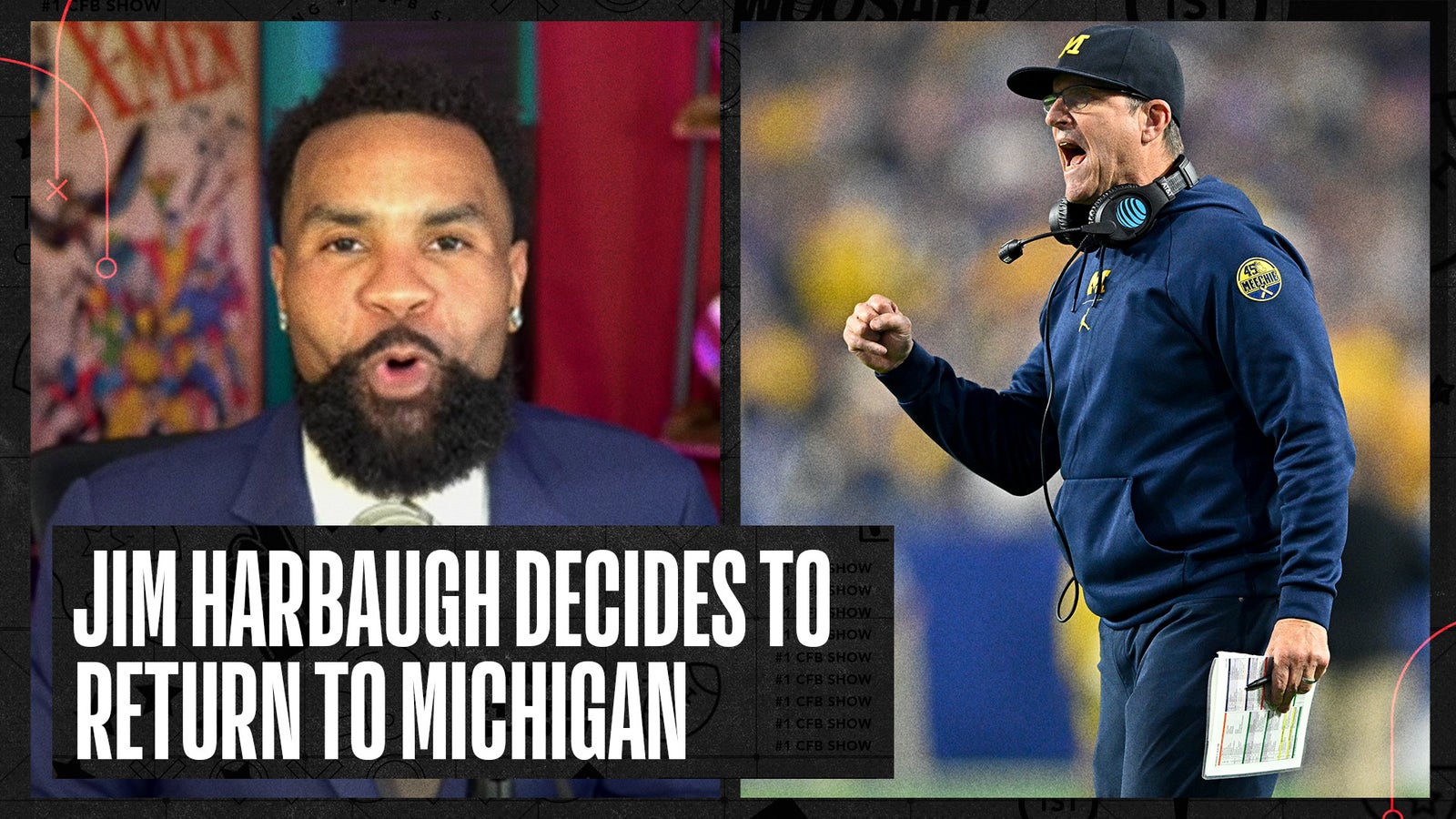 RJ Young: Not as much as I'm sure Michigan's first four opponents would like. Harbaugh has done an outstanding job building his staff, and the program can withstand his absence through what can only be characterized as a pillowy, soft cupcake non-conference schedule. He'll be back when it's time for Michigan to eat its vegetables during the Big Ten slate.
Bryan Fischer: For the 2023 season, it will have less than zero impact. 
Given such a weak slate for the opening four games, it may even have a galvanizing effect on the Wolverines to see Harbaugh absent from the Big House. Maybe the team to be just a tad more focused on putting up an extra touchdown or two so that business can be concluded early.
However, I agree with Michael that there could be longer-term impacts on the program. Moore, who has been up for a few head coaching jobs recently and should be one of the top names during the upcoming coaching cycle, has a terrific opportunity to show he's got what it takes to manage a team during a pressure-packed Saturday environment if he is tabbed as the replacement (when not serving his own potential suspension). There are obvious emotional connections to having Hart leading the team out of the tunnel, too. 
Given Harbaugh's frequent flirtations with the NFL over the years, having one or two staff members step up and prove to AD Warde Manuel they're the top internal option in just such a scenario could be a silver lining to the situation unfolding right now.
When it comes to on-field success, it's hard to top what Harbaugh has done over the last two seasons. In fact, his 25-3 record over that span is second only to Georgia's Kirby Smart. Where does Harbaugh rank in the current hierarchy of college coaches?
RJ: A spot behind Lincoln Riley seems right. With two conference titles and two CFP invitations, it's difficult to say Harbaugh hasn't exceeded expectations given the disastrous 2020 he had. But Riley has won more conference titles, appeared in more CFP games and coached three more Heisman winners. To rate with Smart, Nick Saban and Dabo Swinney, he's gonna have to win a national title.
Bryan: It feels like there's a fairly big gap between the Saban-Smart-Swinney trio and everybody else when it comes to a general hierarchy of active coaches. But among that next group, even those that might be in it with national title rings like Jimbo Fisher, Harbaugh is right there at or near the top.
Just ask an Aggie right now, they'd gladly trade their $100-million man for the Michigan Man.
What adds to Harbaugh's résumé in Ann Arbor is just how good he's been at turning around programs. He went 22-2 his final two seasons at non-scholarship San Diego and found some NFL talent while doing so. He revived a dreadful Stanford program and took them to a BCS bowl. He's made Michigan the current class of the Big Ten and reinvented himself to take them from good to great.
So while he's maybe not quite at the very top of the pyramid, having his name first on the sheet in the next group — depending on the type of season Michigan is having — is still a pretty good place to be.
Jim Harbaugh's daughter, Grace, helps us understand coach
Michael: He's as close to the top tier as one can get without actually joining the rarified air of Smart and Saban, who have nine national championships and 12 Southeastern Conference titles between them. Harbaugh has matched Smart's total of two conference championships by conquering the Big Ten each of the last two years, but he needs a national title before gaining admission to college football's ultimate penthouse.
What has inched Harbaugh closer to Saban and Smart is something of a lifetime achievement award, the totality of his success across a head-coaching career that began in 2004. He's won 71.7% of his games during collegiate stints at San Diego (2004-06), Stanford (2007-10) and Michigan (2015-present) with eight 10-win seasons in 15 years. He launched Stanford, a school which, prior to Harbaugh's arrival, had won more than eight games in a season just once since the legendary Bill Walsh prowled the sideline in 1977, into another stratosphere by going 12-1 in 2010 and laying the foundation for his successor, David Shaw, to reach 10 wins in five of the next six years. And then he revived a Michigan program that went 17 years without a Big Ten title by accomplishing that feat in 2021 and guiding the Wolverines to the first College Football Playoff appearance in school history.
What truly elevates Harbaugh's résumé above the likes of USC's Riley, LSU's Brian Kelly and Ohio State's Ryan Day is what he accomplished in the NFL as head coach of the San Francisco 49ers. In his first three seasons, from 2011-13, Harbaugh reached the Super Bowl once and the NFC Championship Game all three times. His final winning percentage of .695 (44-19-1) in four years ranks sixth in NFL history.
The last time fans saw quarterback J.J. McCarthy in an actual game was Michigan's 51-45 loss to TCU in the Fiesta Bowl. McCarthy completed 20 of 34 passes for a career-high 343 yards and two touchdowns while chipping in 52 rushing yards and another score. But McCarthy also threw two pick-6s in that game and had a backbreaking miscommunication with center Olu Oluwatimi to kill what could have been a potential game-winning drive. What do you expect from McCarthy and the Wolverines' offense this season?
Bryan: I expect a pretty big jump in efficiency from McCarthy this season. There's no preseason QB battle to worry about, and he certainly should know the offense well enough for it to be second nature by now. It's all about delivering, consistently, on every drop-back.
Last season, McCarthy failed to complete more than 60% of his passes in the final five games of the regular season. That can't happen if he wants to take Michigan to the next level, and it will come by connecting on all those intermediate routes he seemed to be a tick off on in 2022.
The now-veteran signal-caller is perfectly capable of elevating his game and getting much better in these areas. He was a five-star out of high school for a reason, and he is also the guy Harbaugh has hitched his wagon to for a reason. Now it all comes down to translating it into better decisions on Saturday.
That, combined with a healthy Blake Corum and Donovan Edwards in the backfield, should give the Wolverines plenty of firepower to roll up the best offensive numbers since Harbaugh arrived as head coach.
Michigan and Ohio State headed towards another 10-year war?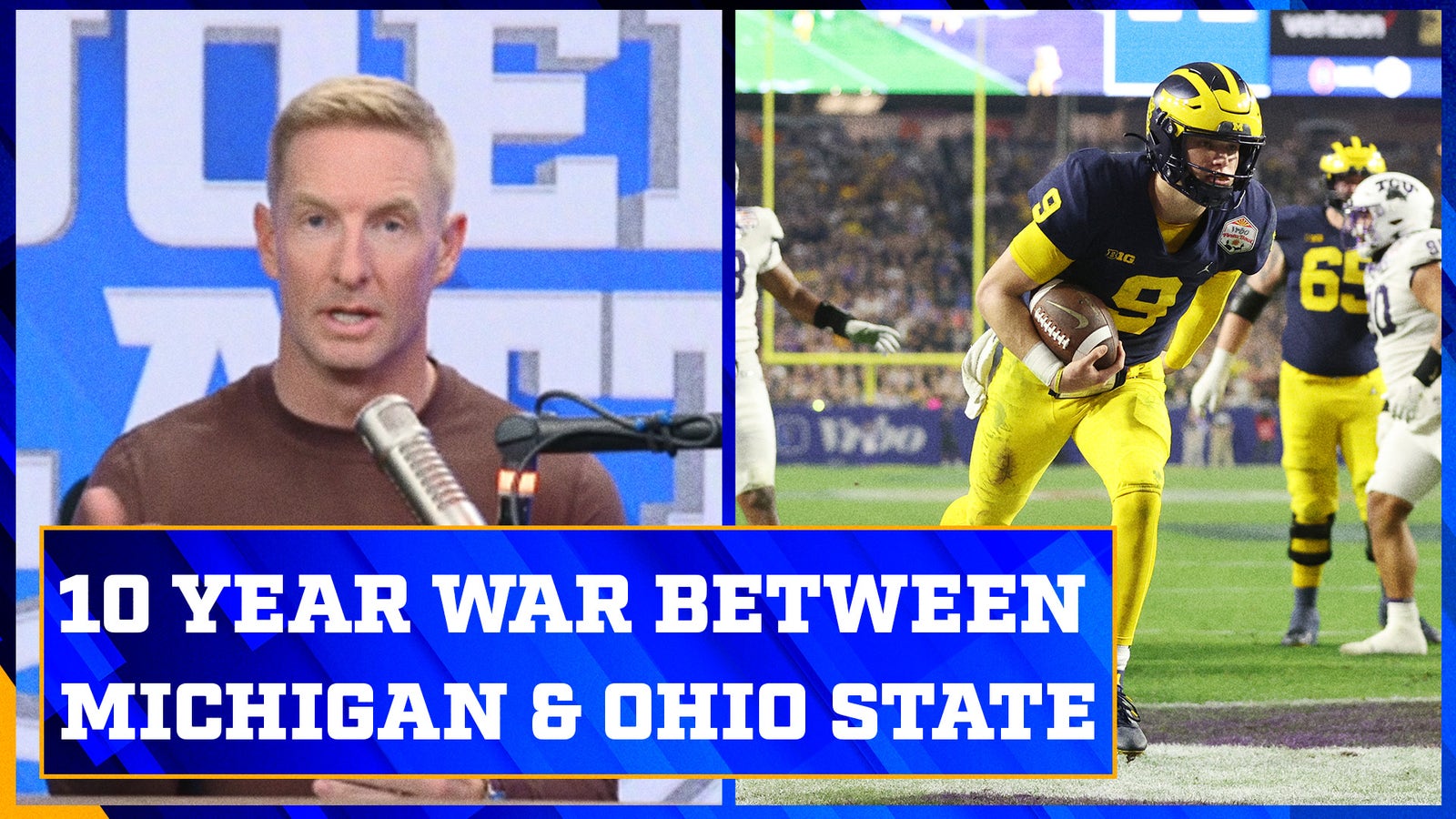 Michael: It's difficult to imagine a coach who loves running the football as much as Harbaugh veering away from the formula that allowed Michigan to maul the Buckeyes in consecutive seasons, win the Big Ten title in consecutive seasons and reach the College Football Playoff in consecutive seasons. The Wolverines ranked seventh nationally among Power 5 schools in rushing yards per game in 2021 (214.4) and second nationally in 2022 (238.9) behind the one-two punch of Corum and Edwards, both of whom are back in Ann Arbor. Last year's run-pass mixture of 600 rushing attempts to 370 passing attempts tells the story of how the Wolverines attacked on offense.
But in what is beginning to feel like an annual tradition, Harbaugh has voiced a desire to be more balanced in 2023. He thinks nine or 10 carries each for Corum and Edwards in a given week is the right amount to maximize their effectiveness while preserving their health after both players battled significant injuries late last season. That would suggest a more involved role for McCarthy, who threw for less than 200 yards in six of 12 games after being named the starter following the Week 2 win over Hawaii. And the Wolverines do return three of their top five pass catchers from 2022 in WR Cornelius Johnson (32 catches, 499 yards, six TDs); WR Roman Wilson (25 catches, 376 yards, four TDs); and TE Colston Loveland (16 catches, 235 yards, two TDs). 
But when push comes to shove, Harbaugh's preferred method of football is to control the clock by controlling the line of scrimmage, and that means handing the ball to Corum and Edwards much more frequently than McCarthy throws it during critical moments. It will be more of the same from Michigan against Big Ten competition. 
RJ: I expect McCarthy to hand the ball to the firm of Corum and Edwards on first down and rock back and forth between play-action passing and rolling out to take advantage of a loaded box that will give him 1-on-1 opportunities on the outside.
After back-to-back Big Ten Championships and consecutive appearances in the College Football Playoff, the only thing left for Michigan to achieve is capturing the school's first national title since 1997. Can the Wolverines get over their CFP semifinal hump and win a championship this season?
Michael: No. Even with the most talented roster of Harbaugh's tenure, Michigan will likely fall short on the biggest stage for the same reason it stumbled each of the last two years: The offensive line, which won the Joe Moore Award in back-to-back seasons but couldn't hold up against non-Big Ten competition.
The first time this happened, in 2021, the Wolverines were victimized by arguably the greatest defense in college football history during a lopsided loss to Georgia. Eight Bulldog defenders went on to be selected in the 2022 NFL Draft, including five in the first round alone. Michigan, which allowed 21 quarterback pressures, six quarterback hits and four sacks that night, was largely absolved because of the generational talent on the opposite sideline. Fair enough.
But when it happened again in 2022 — albeit to a lesser degree — against a TCU defense that finished the year ranked 95th overall and 47th in sacks, legitimate questions must be asked: How can the best offensive line in football two years running allow four sacks and 13 tackles for loss to the Horned Frogs? How can right guard Zak Zinter, the team's best offensive lineman, tie his season high in pressures allowed (two) against a team that didn't have a defensive player drafted in the first 100 picks of the 2023 NFL Draft? Why has Michigan's offensive line crumbled in consecutive seasons against Power 5 opponents from outside the Big Ten?
TCU upsets Michigan in the Fiesta Bowl
Based on Michigan's overall talent level and the softness of its non-conference schedule, there's no reason to believe the Wolverines can't reach the CFP again. Harbaugh has everything he needs to get there for a third straight year, and it would be somewhat surprising if his team falls short. But the Wolverines are replacing at least two starters, and potentially three, along an offensive line that still needs to prove it can hang on the biggest stage. The proof isn't in the pudding just yet. 
RJ: If TCU can flip from 5-7 to the team that put up 51 in a win over a previously 13-0 Michigan, the Wolverines can win a national title this season. But until they do, that loss to the private Christian school in North Texas is how they'll be remembered in the four-team playoff era.
Bryan: Can and will are two very different things, but I see no reason why they wouldn't be on the shortlist of five or six realistic contenders for the whole thing. Those around the program seem to be brimming with confidence that is reaching new levels in Ann Arbor. 
Plus, among that same group of contenders, I have the fewest questions about this team. They've got a quarterback back, an excellent run game, upgraded well through the portal and have plenty of quality defensive pieces back.
So there's no reason to think they can't. But when it comes to "will" they get over that hump and win it all, it often comes down to some lucky bounces and key breaks going their way. Unless your name is Georgia or Alabama, it's much easier to bet against it.
RJ Young is a national college football writer and analyst for FOX Sports and the host of the podcast "The Number One College Football Show." Follow him on Twitter at @RJ_Young and subscribe to "The RJ Young Show" on YouTube.
Michael Cohen covers college football and basketball for FOX Sports with an emphasis on the Big Ten. Follow him on Twitter at @Michael_Cohen13.
Bryan Fischer is a college football writer for FOX Sports. He has been covering college athletics for nearly two decades at outlets such as NBC Sports, CBS Sports, Yahoo! Sports and NFL.com among others. Follow him on Twitter at @BryanDFischer.
---
COLLEGE FOOTBALL trending
---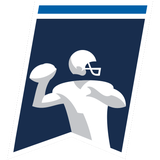 Get more from College Football Follow your favorites to get information about games, news and more
---