Laken Litman
College Football & Soccer Analyst
SOUTH BEND, Ind. — Ryan Day alternated between emphatically pumping his fists and holding up the 'O' for Ohio as he walked fast and furiously toward the Ohio State locker room.
His emotions had been brewing for the last couple of days because his team had been publicly called out for not being tough or physical enough. And now he could properly let all of his feelings out.
"A lot of people took a lot of shots at this team the last 48 hours," a heated Day said. "And it really hit home to me."
The sixth-ranked Buckeyes came into Notre Dame Stadium on Saturday night and broke the ninth-ranked Fighting Irish hearts with a 17-14 victory that was clinched with just one second left on the clock.
For three-plus hours, this place was electric. Fans wore bright green to match Notre Dame's specialty uniforms for the top-10 prime-time showdown, and their noise level drowned out the sprinkling of Buckeyes fans who made the trip.
And then in an instant, a hush fell over that raucous crowd after an epic drive that will undoubtedly go down as one of the greatest in Ohio State history.
Trailing 14-10 with 1:26 remaining, the Buckeyes needed to go 65 yards in 66 seconds. Kyle McCord, the Buckeyes' unproven first-year starting quarterback, hit Emeka Egbuka for 23 yards on third-and-10, found Julian Fleming for seven yards on fourth-and-7, and connected with Egbuka again for 21 yards on third-and-19. It was that last play that brought Ohio State to the Notre Dame 1-yard line with seven seconds left. McCord spiked the ball on first down. On second down, he looked for Marvin Harrison Jr., widely considered to be the nation's top receiver, but the pass was incomplete.
Highlights: Check out the top plays from Buckeyes' thrilling win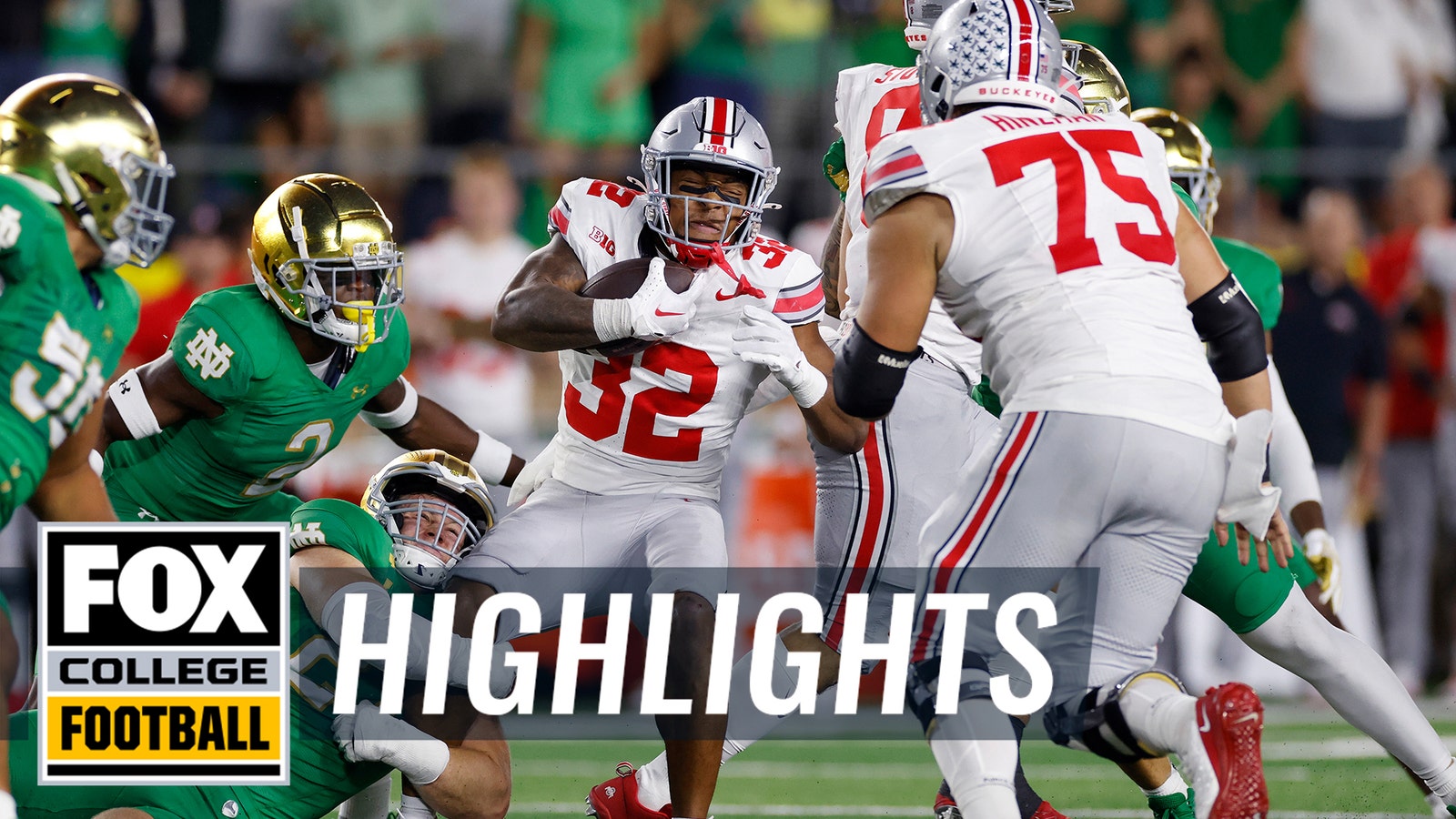 On third-and-1, Day — making up for falling short in a couple of eerily similar situations earlier in the game — decided to run it up the middle for the win. And that's exactly what senior running back Chip Trayanum, who only had six touches for 13 yards, did to pull off a remarkable comeback win.
It didn't hurt that Notre Dame only had 10 men on the field for the play, an admission from Irish head coach Marcus Freeman that drew a fair amount of criticism. Still, that changed nothing in the eyes of the Buckeyes.
"The narrative around us is that we aren't tough, so I don't know how else you're gonna draw it up," McCord said. "Last play of the game, top-10 opponent, no timeouts, three seconds left. We get that yard and win, or we don't get that yard and lose."
The touchdown was under review for several nervy minutes, but ultimately officials ruled it was good.
"I knew I was definitely in," Trayanum said. "It was close. But as a running back you live for runs like that. The nitty-gritty runs, the runs where you fight with your body to stay up and make sure nothing touches [the ground], so you definitely practice that and you envision it. It's still surreal.
"I just knew the job had to be done. As simple as that."
Breaking down Ohio State win at Notre Dame
And this brings us back to Day's feistiness and anger as soon as the final whistle blew. He heard there was shade being thrown toward his team earlier in the week, specifically from former legendary Notre Dame coach, Lou Holtz.
Holtz, whose 1988 national championship team was honored on the field during Saturday's game, had gone on the Pat McAfee Show on Friday and called out Day's teams for lacking toughness.
"He has lost to Alabama, Georgia, Clemson, Michigan twice," Holtz said. "And everybody who beats them does so because they're more physical than Ohio State. I think Notre Dame will take that same approach."
This royally offended Day, and he came out swinging, first in his postgame TV interview, and again in his news conference.
"I'm really upset and disrespected by what Lou Holtz said publicly about our team and Ohio State and Buckeye Nation," Day said. "And we're not going to stand for that." 
"That's not even close to true," Day continued, his voice rising an octave. "We had one bad half a couple years ago [against Michigan] up in Ann Arbor in the second half.
"Every game we play in, we're physical," he added, yelling. "We are. I don't know where that narrative comes from, but that ends tonight. This team right here showed toughness. It showed grit. They didn't give up, and they found a way to get that last yard."
Asked if he purposefully called a run play to finish things off, Day said, "1,000%."
"It's always been Ohio against the world, and it continues to be to this day," Day said. "The momentum was going for Notre Dame at one point. And our guys stuck their foot in the ground and [Trayanum] makes a big-time play and the guts of our team to go in and win that game on the road.
"You're telling me this team isn't physical? Isn't tough? You're wrong."
One of the storylines heading into this matchup was experience at quarterback. Sam Hartman was a sixth-year starter who transferred to Notre Dame from Wake Forest, while McCord was making his fifth start ever. He had backed up C.J. Stroud for the last two seasons and had only experienced hostile road environments from the sideline. This was a chance for him to make a statement. 
McCord went 21 of 37 for 240 yards with no turnovers. He had a few zippy passes and nearly a beautiful touchdown pass to Egbuka in the second quarter, but the receiver dropped the ball in the end zone. He was 10-of-17 on third down and showed poise and composure throughout, especially on the final drive with the game on the line.
"That's what great quarterbacks do, and for his first top-10 road game, to be put in that situation and come through, it says a lot about his future," Day said. 
Defensively, Ohio State didn't record a sack or force a turnover, but they didn't give up a play of more than 28 yards. They held Hartman to a season-low 175 yards passing and just one touchdown, and now the veteran QB is 3-10 vs. ranked opponents going back to his days at Wake Forest.
"Hats off to the defense," Day said.
[Do you want more great stories delivered right to you? Here's how you can create or log in to your FOX Sports account, follow your favorite leagues, teams and players and receive a personalized newsletter in your inbox daily.]
Ohio State passed its first test of the season, but has plenty more coming with Big Ten trips to Wisconsin and Michigan, plus a home game against Penn State next month. After the Buckeyes snuck into the College Football Playoff last year — where they lost on a walk-off field goal to eventual champion Georgia on New Year's Eve — their postseason hopes are still very much intact.
The Buckeyes are off next week, which is why Day said they'd probably celebrate this win a little longer. He probably also needs the extra time to cool off. As the head coach at Ohio State, Day is no stranger to scrutiny and criticism. But coming after his team's physicality cut deep.
"It was a life lesson," Day said. "We always say 'Ignore the noise.' But after a while if someone is poking at you, you've gotta stand up for what you believe in, and that's the way I was raised and the way I'm going to be moving forward.
"I get Ohio against the world. We needed to play like that today."
They did.
Now, can they keep it going?
Laken Litman covers college football, college basketball and soccer for FOX Sports. She previously wrote for Sports Illustrated, USA Today and The Indianapolis Star. She is the author of "Strong Like a Woman," published in spring 2022 to mark the 50th anniversary of Title IX. Follow her on Twitter at @LakenLitman.
---
COLLEGE FOOTBALL trending



2023 College football Week 4 predictions, best bets by Chris 'The Bear' Fallica


Oregon vs. Colorado prediction, odds, picks


Big Noon Live: Oklahoma defense dominates in gritty win vs. Cincinnati





2023 College Football, NFL odds: Best bets for UCLA-Utah, Saints-Packers


Joel Klatt: What to expect in 'best slate of games we've had in years' in Week 4


Travis Hunter injury: Colorado two-way star out at least three weeks





John Smoltz, Tom Glavine aren't surprised by ex-MLB teammate Deion Sanders' success


Oklahoma vs. Cincinnati, Colorado vs. Oregon: What we're watching in Week 4


2023 Colorado Buffaloes football schedule: How to watch, dates, times, TV channel

---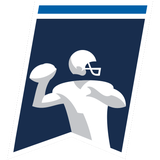 Get more from College Football Follow your favorites to get information about games, news and more
---