What is Nick Saban's defining trait that makes him stand out above every other college football coach in the country?
The 71-year-old Saban is an exceptional recruiter, a committed teacher and educator, and a wizard when it comes to game script and X's and O's. However, it is Saban's ability to adapt to college football's ever-evolving landscape, both on and off the field, that has allowed Alabama to sustain constant success since he was named the program's head coach back in 2007.
So when Saban sat down with FOX Sports college football analyst Joel Klatt for a one-on-one interview as a part of his summer podcast series, "The Joel Klatt Show: Big Noon Conversations," and was asked about what he is adjusting to and evolving with currently in today's game, the future Hall of Famer opened up about having to adapt to quick-paced, RPO-based offenses over the past decade.
"You have to be flexible," Saban said. "If you're flexible, then you have a willingness to adapt. I think your willingness to adapt is really important because things are always changing. … We never had RPOs before, we never had to manage throws, we never had fastball offenses like we have now. All of those things create advantages."
Saban, along with members of Alabama's offensive staff, made the decision to adapt and incorporate RPO (run-pass-option) concepts into the program's offense in the mid-2010s. The move paid immediate dividends as Alabama put together two of the most dominant offensive seasons in college football history in 2018 and then again in 2020.
Where do those offenses rank among the best in recent memory?
[Nick Saban in Joel Klatt interview: 'We need to create some balance']
In order to answer that question, it is important to take a number of key factors into consideration, including program success, scoring output, yards per game, average margin of victory, and draft picks produced on the offensive side of the ball.
Here is a look at the top 10 offenses in college football since 2000, counting down from 10-to-1.
Nick Saban on the importance of adapting in college football
Joel Klatt sat down with Alabama head coach Nick Saban to discuss how to fix college football and breaks down the importance of adapting in the sport.
10. 2010 Oregon Ducks
Record: 12-1 (9-0)
Points per game: 47
Yards per game: 530.7
Average margin of victory: 28.3
Notable NFL players: RB Kenjon Barner, WR Josh Huff, RB LaMichael James
There have been a handful of revolutionary offenses in college football over the years, but few have had the overall impact on the sport quite like Chip Kelly's Ducks did back in the day. It wasn't just the numbers that the 2010 group put up – 47 points per game, the devastating rushing attack that racked up nearly 300 yards per game on the ground – but rather how they popularized things we take for common place in the playbook now like the spread, not huddling and running plays at a rapid pace to put pressure on opposing defenses. The fact they did that with a QB in Darron Thomas who started the year as a backup and came within a missed tackle of winning the BCS title game against Cam Newton and Auburn only adds to the lore surrounding this group from Eugene. – Bryan Fischer
9. 2005 Texas Longhorns
Record: 13-0 (8-0)
Points per game: 44.9
Yards per game: 512.1
Average margin of victory: 33.8
Notable NFL players: RB Jamaal Charles, RB Chris Ogbonnaya, OL Jonathan Scott, TE David Thomas, QB Vince Young
Everything about the 2005 Longhorns started and stopped with quarterback Vince Young, the Heisman Trophy runner-up and eventual No. 3 overall pick in the NFL Draft. Young passed for more than 3,000 yards and rushed for more than 1,000 yards while accounting for 38 total touchdowns en route to winning the national championship. His backfield partner, tailback Jamaal Charles, wasn't half bad either with nearly 900 rushing yards and 13 total scores. But it's the image of Young reaching across the goal line to beat USC in the Rose Bowl that quickly etched itself into college football lore. – Michael Cohen
8. 2013 Baylor Bears
Record: 11-2 (8-1)
Points per game: 52.4
Yards per game: 618.8
Average margin of victory: 28.8
Notable NFL players: WR Corey Coleman, QB Bryce Petty
Arguably the finest season of the Art Briles era finished with an 11-2 record under the direction of quarterback Bryce Petty, whose final tally of 32 touchdowns and just three interceptions remains one of the most remarkable displays of potency in recent memory. Interestingly, none of the Bears' top weapons found success in the NFL with Petty, running back Lache Seastrunk and wide receiver Antwan Goodley all washing out within a few years. – Michael Cohen
Corey Coleman's Journey: NFL First Round Draft Pick, USFL Success
RJ Young is joined by Philadelphia Stars' WR Corey Coleman to discuss his journey as a first-round NFL draft pick and his achievements in the USFL.
7. 2001 Miami Hurricanes
Record: 12-0 (7-0)
Points per game: 42.7
Yards per game: 456.3
Average margin of victory: 32.9
Notable NFL players: RB Najeh Davenport, QB Ken Dorsey, RB Frank Gore, WR Andre Johnson, RB Willis McGahee, OL Bryant McKinnie, RB Clinton Portis, TE Jeremy Shockey, TE Kellen Winslow Jr
The level of offensive firepower on a team many consider to be the greatest in college football history was truly staggering. A running back trio of Clinton Portis, Frank Gore and Willis McGahee would combine for 19 1,000-yard seasons in the NFL. Wide receiver Andre Johnson would make four All-Pro teams and finish his career ranked 11th in career receiving yards. Tight end Jeremy Shockey went on to win two Super Bowl rings. Left tackle Bryant McKinnie was a top-10 pick. It was an offense that will never be duplicated. – Michael Cohen
6. 2018 Alabama Crimson Tide
Record: 14-1 (8-0)
Points per game: 55.7
Yards per game: 522.0
Average margin of victory: 27.5
Notable NFL players: RB Damien Harris, RB Najee Harris, QB Jalen Hurts, RB Josh Jacobs, WR Jerry Jeudy, QB Mac Jones, OL Alex Leatherwood, RB Brian Robinson Jr., WR Henry Ruggs III, TE Irv Smith Jr., WR DeVonta Smith, QB Tua Tagovailoa,  WR Jaylen Waddle, OL Jonah Williams, OL Jedrick Wills
When it comes to the list of the greatest teams to not win the national title, the 2018 Crimson Tide have an excellent case despite a rough ending in the final game of the year against eventual champion Clemson. Quarterback Tua Tagovailoa notably set an NCAA record for passing efficiency after winning the starting job over veteran Jalen Hurts, who later played a key role in the SEC title game. All told, two QBs, two tailbacks, four wideouts and two offensive linemen would end up being taken in the first round of the NFL Draft as the sheer amount of talent often overwhelmed opponents on a weekly basis. Beyond some of the impressive offensive numbers put up in a very tough SEC, this group also leaves behind a legacy of furthering the usage of RPOs at a high level in college football and forcing opposing defenses to pick their poison in terms of what they choose to prioritize defending. – Bryan Fischer
5. 2018 Oklahoma Sooners
Record: 12-2 (8-1)
Points per game: 59.1
Yards per game: 570.3
Average margin of victory: 15.1
Notable NFL players: WR Marquise Brown, OL Cody Ford, OL Creed Humphrey, WR CeeDee Lamb, QB Kyler Murray, OL Ben Powers, RB Trey Sermon
Offense is by nature fun to watch in college football and the 2018 Sooners seemingly took that to another level, topping the 50-point mark in half of their games and setting a host of school, conference and FBS offensive efficiency records in their wake. Heisman Trophy winner Kyler Murray would make your jaw drop at least once a quarter, escaping from pressure or throwing the ball perfectly down the field while a host of his fellow playmakers found daylight consistently on their own. Lincoln Riley was a fantastic playcaller but took things up a few notches during this season and used the counter play to devastating effect by taking one of football's stalwart plays and making it a staple of their base offense. As Sooners fans will tell you, they were forced into scoring nearly every series because of a suspect defense on the other side of the ball, but the end result was one of the best offenses ever to take the field. – Bryan Fischer
Kyler Murray has an unbelievable TD Run in the Red River Showdown
Oklahoma QB Kyler Murray takes a 67-yard run for a touchdown in the Red River Showdown
4. 2020 Alabama Crimson Tide
Record: 13-0 (10-0)
Points per game: 48.5
Yards per game: 541.6
Average margin of victory: 29.1
Notable NFL players: OL Landon Dickerson, RB Najee Harris, QB Mac Jones, OL Alex Leatherwood, OL Evan Neal, RB Brian Robinson Jr, WR DeVonta Smith, WR Jaylen Waddle
Calling this team one of the best of the College Football Playoff era might actually be underselling this group given that they not only shattered a host of records and went undefeated on their way to a national title, but did all of that while in the midst of a global pandemic that impacted every facet of playing the game on a weekly basis. Still, the Tide featured DeVonta Smith becoming the first true receiver to win the Heisman (over two teammates who were finalists), had award winners at quarterback, running back and offensive line, plus saw playcaller Steve Sarkisian take home the Broyles Award. They accomplished all of this against a brutal SEC regular-season schedule, playing just one close game all year and capping off a remarkable 13-0 campaign by throttling Ohio State in the championship game. Beyond all that, the lasting legacy from the 2020 Tide might end up being just how consistently they got the ball in the hands of their playmakers – who often were running free in space as one of the most effortless offenses to ever take the field. – Bryan Fischer
3. 2013 Florida State Seminoles
Record: 14-0 (8-0)
Points per game: 51.5
Yards per game: 519.1
Average margin of victory: 39.5
Notable NFL players: QB Jameis Winston, RB Devonta Freeman, WR Kelvin Benjamin, OL Cameron Erving
The Seminoles closed out the BCS era in college football by becoming not only the national champion that season, but stating their case as one of the most dominant teams in recent memory (average margin of victory: 39.5 points). Jameis Winston won the Heisman Trophy as a redshirt freshman, living up to his billing as one of the top young quarterbacks at the time by distributing the ball with ease to a host of playmakers that included three receivers who had at least 900 yards through the air, plus a 1,000-plus yard rusher in the elusive Devonta Freeman. The title game at the picturesque Rose Bowl was the only time the Seminoles won a game by fewer than two touchdowns and their 51.5 points per game came on the backs of three eventual first rounders among the nine total draft picks in the starting lineup on offense. – Bryan Fischer
2. 2005 USC Trojans
Record: 12-1 (8-0)
Points per game: 47.7
Yards per game: 568.4
Average margin of victory: 26.6
Notable NFL players: RB Reggie Bush, TE Fred Davis, WR Dwayne Jarrett, OL Winston Justice, OL Ryan Kalil, QB Matt Leinart, WR Steve Smith, RB Lendale White
Though its 12-1 record has since been vacated, the 2005 USC football team was part of an epic three-year run for head coach Pete Carroll in which the Trojans averaged 12.3 wins per season. A pair of one-two punches with Reggie Bush (1,740 yards, 16 TDs, Heisman Trophy) and LenDale White (1,302 yards and 24 TDs) in the backfield and wideouts Dwayne Jarrett (1,274 yards and 16 TDs) and Steve Smith (957 yards and 5 TDs) on the perimeter gave reigning Heisman Trophy winner Matt Leinart and first-year offensive coordinator Lane Kiffin more weapons than they knew what to do with. – Michael Cohen
Reggie Bush & Matt Leinart relive the famous "Bush Push" from 2005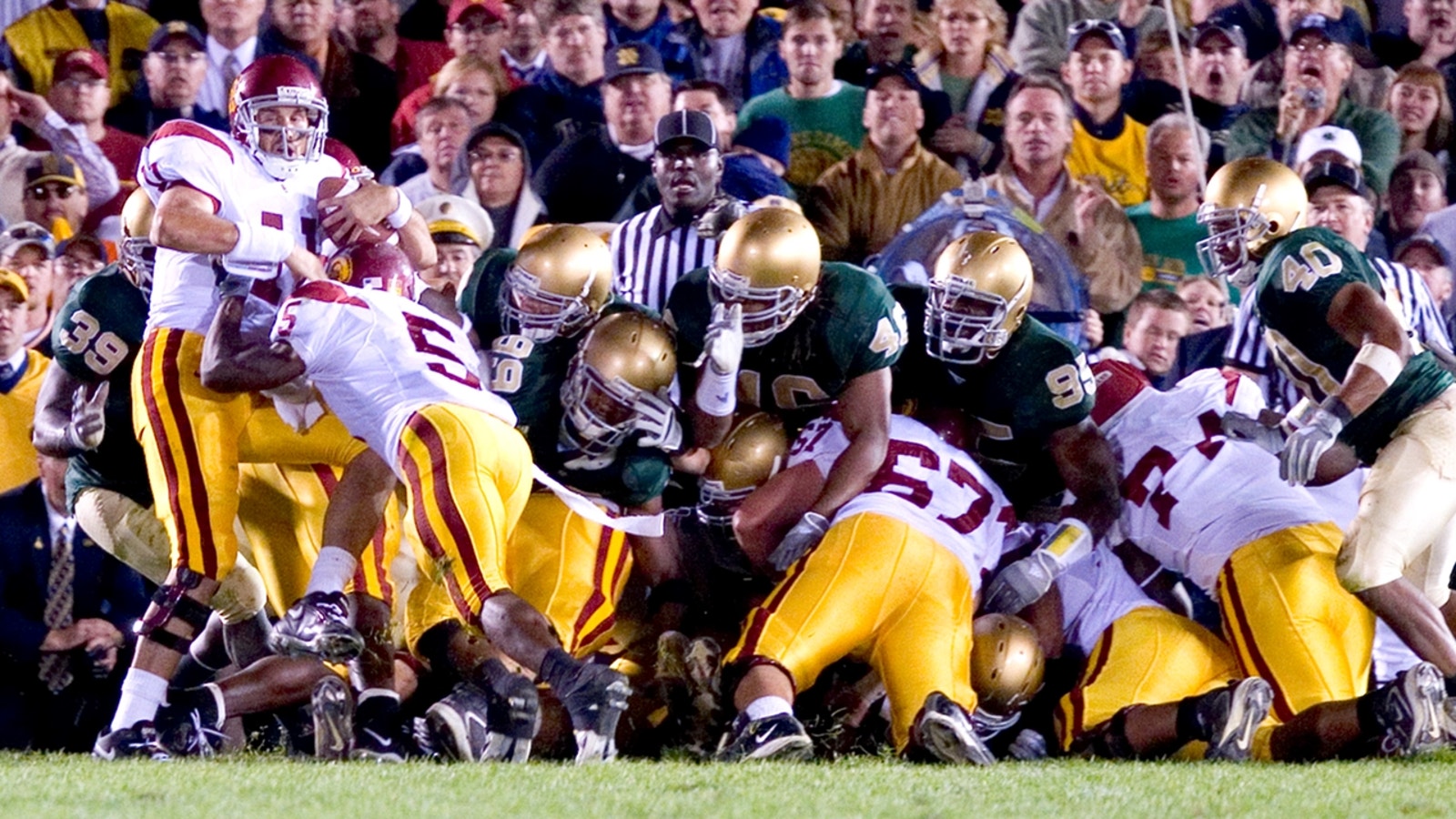 Reggie Bush and Matt Leinart take a look back to 2005 and relive the 'Bush Push' which led to USC's victory over Notre Dame.
1. 2019 LSU Tigers
Record: 15-0 (8-0)
Points per game: 48.4
Yards per game: 568.4
Average margin of victory: 26.5
Notable NFL players: QB Joe Burrow, RB Clyde Edwards-Helaire, WR Ja'Marr Chase, WR Justin Jefferson, WR Terrace Marshall Jr., OL Austin Deculus, OT Saahdiq Charles, C Lloyd Cushenberry III, G Ed Ingram
One of the truly high-powered juggernauts in college football history led by quarterback Joe Burrow, a future No. 1 overall pick. Of the 14 players that went on to be selected in the 2020 NFL Draft, seven were on the offensive side of the ball. And when everything was said and done, the 2019 LSU roster produced one first-round quarterback (Burrow), two first-round wide receivers (Ja'Marr Chase and Justin Jefferson) and one first-round running back (Clyde Edwards-Helaire). – Michael Cohen
Honorable mention: 2008 Oklahoma Sooners, 2008 Florida Gators, 2010 Auburn Tigers, 2015 Baylor Bears, 2011 Houston Cougars, 2012 Oregon Ducks, 2004 Boise State Broncos
---
COLLEGE FOOTBALL trending
---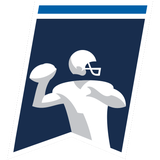 Get more from College Football Follow your favorites to get information about games, news and more
---